DF Series Cutting Plotter
Li Yu, 20 years brand, trustworthy!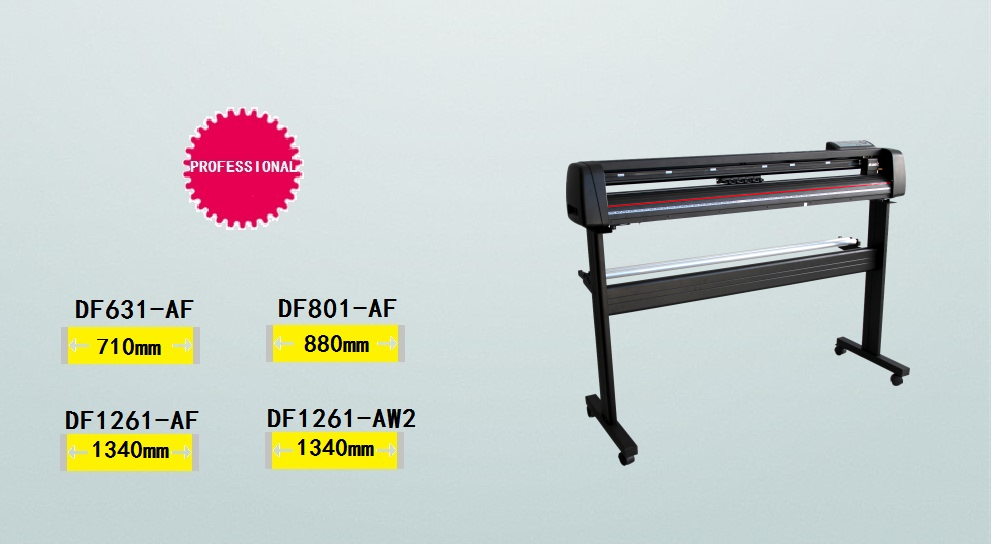 Technical Specifications:
Model

DF631-AF

DF801-AF

DF1261-AF

DF1261-AW2

Cutting Size

600mm/2.07ft

780mm/2.62ft

1260mm/4.13ft

1260mm/4.13ft

Media Size

710mm/2.33ft

880mm/2.89ft

1340mm/4.40ft

1340mm/4.40ft

Max.Cutting Speed

1000mm/s

1000mm/s

Cutting Pressure

500g

800g

LCD Display&Stand

Yes

Yes

Yes

Yes

Buffer capacity

1Gb-Recyclable

1Gb-Recyclable

Resolution

0.025mm/step

0.025mm/step

Origin Adjustable

Yes

Yes

Repeat ability

0.02mm

0.1mm

Power

AC220V(110V)±15%,<100W

AC220V(110V)±15%,<120W

Language Format

HP-GL,DM-PL

Interface

USB2.0&Serial&U Disk

USB2.0&Serial&U Disk&WIFI

Drive

Servo Motor

Princh Roller

3pcs

5pcs

9pcs
Specifications are subject to change without prior notice,all rights reserved.
Highlight Features:
1.Standard with real Contour cut function,full-automatic and easy to achieve contour cut without interference from other light sources,high resolution.
2.No need to manually install the USB driver, the system automatic identification, fast, convenient and stable;
3.New adopted ARM processor and new servo drive. system more powerful and stability.
4.It can read and cut the contour cutting file directly from U-disk(flash disk).
5.1Gb super-memory achieves a long time Offline cutting, meanwhile, the data storage can be achieved even power failure.
6.New high-speed GD32 remote control system with new servo drive, higher speed, noise-free work.
7.Humanized design, digital cutting force and speed adjustable at any time.
8.High-precision "steel thorn" main roller, higher accuracy.
9.Emergency stop & stop to return at any time to monitor the cutting quality, easy to operate.
10.Bulk copy up to 99, saving time and effort.