G series Cutting Plotter-Camera model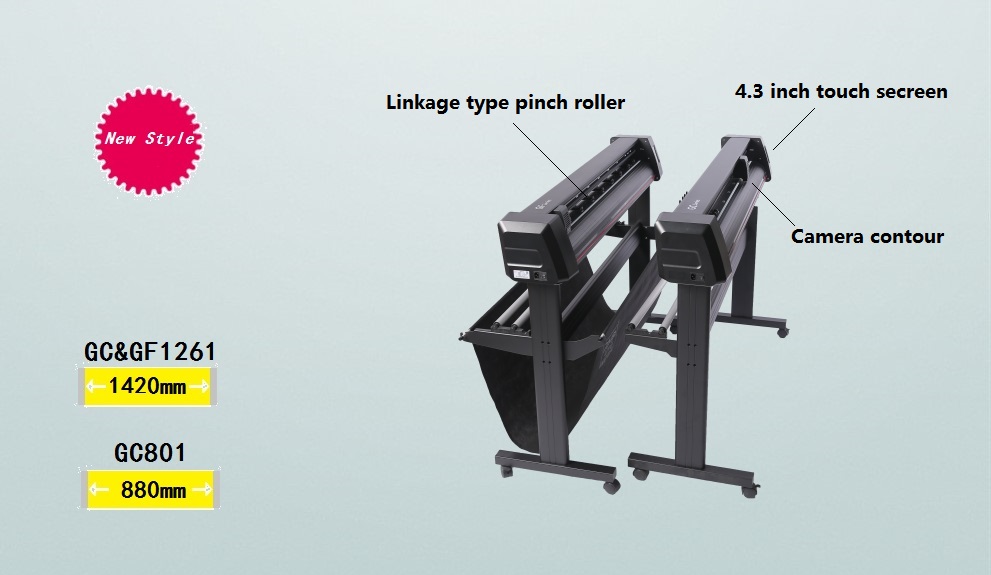 Technical parameter:
Model

GC801

GC1261

GF1261

Max.Contour Cutting Width

680mm/2.89ft

1230mm/4.66ft

1230mm/4.66ft

Max.Cutting Width

780mm/2.56ft

1260mm/4.13ft

1260mm/4.13ft

Max.Media Width

880mm/2.23ft

1420mm/4.04ft

1420mm/4.04ft

Speed

900mm/s

1000mm/s

Cutting Force

900g

1000g

Touch Screen

有

Memory

1Gb

Cutting Precision

0.025mm/step

Repeat Precision

0.125mm

0.1mm

Power

AC220V(110V)±15% ,<100W

Language Format

HP-GL,DM-PL

Interface

USB2.0 & U盘&WIFI

Motor

Stepper

Servo

Pinch Roller

4sets

5sets

9sets
The above data are subject to change without prior notice, the interpretation of the power of the company owned by Anhui.
Highlight Features:
1)High-definition camera automatic contour cutting, accurate identify the marks of different colors and materials.
2)Multi-point alignment system, segmented contour cutting, automatic deviation correction.
3)4.3 inch touch screen,high resolution,high definition.
4)High precision steel wheel, accurate transmission to prevent deviation.
5)Metallic carriage, which can work continuously and smoothly for a long time and excellent heat dissipation.
6)1Gb super-large memory, data transmission in seconds,can be long time offline cutting, data can also be timely stored even in the case of power failure.
7)The system can identify USB drive automatically, fast and convenient.
8)Independent pinch roller design,move easily and smoothly.
9)Stepper driver system, reliable and stable performance.
10)Red cutting groove design and high steel body integrated, Good-looking appearance.